Economic Development
Location: Verona Town Hall 2nd Floor, 600 Bloomfield Ave, Verona, NJ 07044
Hours: 8:30 AM – 4:30 PM Monday-Friday
Contact: (973) 239-4921
---
The Department of Economic Development is responsible for the supervision of economic development within the Township of Verona. This includes overseeing and assisting in the retention, attraction, promotion and development of local businesses. The Department seeks to foster positive municipal-business relationships and assist in the establishment and expansion of new businesses. The Department strives to make opening, relocating or running a business in Verona as efficient and lucrative as possible.
Department of Economic Development projects include:
Attracting new businesses

Nurturing small and start-up businesses

Retaining existing business and industry

Encouraging community patronage of local establishments
Check Out & Download the Verona Dining Guide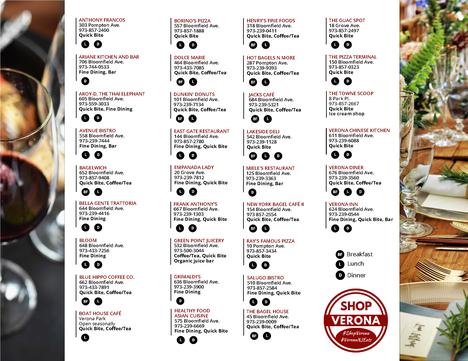 If you are a business owner or know of a local business you believe deserves to be in the spotlight, submit your recommendations here:
Parking options in Verona
Verona has recently implemented the ParkMobile Parking App throughout town to make parking easy! Find out how to start using the app today:
Using ParkMobile for On and Off-Street Parking - with Subtitles from ParkMobile on Vimeo.
Resources: