Community Pool
Main Contact: Verona Recreation Department
Location: Verona Community Center, 880 Bloomfield Ave. Verona, NJ 07044
Hours: 8:30AM-4:30PM Monday-Friday
Contact:
Off-Season- Recreation Office: (973) 857-4830
In-Season- Pool Main Office: (973) 857-4840
Gazebo Rentals: At the Pool Office (973) 857-4840
---
Take a Virtual Tour of the Pool!
---
Baby Pool Renovation Updates:
General Information:
*Registration Opens Saturday, April 1st at 9am* REGISTER HERE
*NEW Adult & Child Day Pases: $45 & 25. Verona Residents Only Mondays - Fridays – Limit 3 per season (Excludes Memorial Day, Fourth of July and Labor Day)
Highlights for the 2023 Season Include:
*New Splash Pad
*Extended Hours for the Baby Pool & Splash Pad
*Baby Pool Renovation & Shade Structures
*Completely Refurbished Water Slides
---
Bathing Suit & Goggle Drive - 7.14.23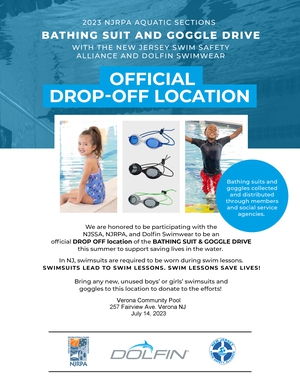 ---
2023 POOL HOURS:
Monday, Tuesday, Wednesday, Thursday Noon – 8pm
Friday Noon – 9pm
Splash Pad/Baby Pool Access is every day at 10am* See below
Saturday (Adults only 18+) 10am – 11am
Saturday 11am – 8pm
Sunday (Adults only 18+) 10am – 11am
Sunday 11am – 8pm
Tuesday Family Nights:
June 27th, July 11th, July 18th, August 8th & August 15th -4pm to 8:00pm (Must have a valid ID showing your Verona address)
*Splash Pad/Baby Pool Access is open to Pool Member Parents/Guardians with children 7 yrs. and younger every day after the Pool opens full time on June 23rd. The access is ONLY for the Splash Pad/Baby Pool area. There is no access during this time to the main pool, slides or any attractions. Access to the Splash Pad/Baby Pool is through the Main Gate.
---
2023 Verona Waves Swim Team Information:
Registration is Open for the Verona Wave Swim Team. Please go to Community Pass to Register under Verona Waves 2023 Season Information
All swimmers who sign up for the Waves (or Mini-Waves) who have NOT been a member of the travel team in the past will need to attend the swim evaluation on June 3rd and June 4th at any time between 8:30am - 10am. At this time swimmers will be evaluated for readiness for both the Mini Waves and/or placement on the Verona Waves. Attendance at the evaluation does not guarantee a place in either swim program. Swimmers will be notified via email, no later than the evening of June 6th. Please note the Mini-Waves program will be capped at 60 swimmers to ensure swimmers' safety. Please note the Mini-Waves is NOT swim lessons but an introduction to competitive swimming for swimmers who already know the basics of swimming freestyle (front crawl), and have the endurance to lap swim. Swim Lesson information will be out on May 26th, 2023.
Mini - Waves Summer Schedule:
Practice Time: 8:15 am - 9:00 am on the dates below
Week 1: 6/26, 6/28, 6/30

Week 2: 7/3, 7/6, 7/7

Week 3: 7/10, 7/12, 7/14

Week 4: 7/17, 7/19, 7/21
Verona Waves Practice Schedule:
Practice starts on 6/26 and ends 7/28. Please note: No Practice on 7/4
Practice Times:
10/under 9:00 - 9:45 am

11-12 : 9:45 - 10:45am

13/over: 10:45 - 11:45am
*Swimsuit Sale: June 5th @VCC in the Fireman's Room (upstairs) from 4-7 pm