Multicultural Inclusion and Accessibility Advisory Committee
Chairperson
Michele Gruet
Location: Verona Town Hall, 600 Bloomfield Ave. Verona, NJ 07044
---
Mission Statement:
Verona's vibrant community proudly welcomes all residents, business owners, employees, and visitors. Together we are working toward being a truly inclusive place where our policies, services, and programs meet the needs of all people.
---
About:
The Multicultural Inclusion and Accessibility Advisory Committee (MIAAC) was newly established by the Township Council on January 3, 2022 via Resolution. We are looking for volunteers who are interested in participating in the next year to help us begin the work of the newly adopted mission statement.
The MIAAC is charged with the following duties and responsibilities:
Make recommendations regarding diverse cultural, economic, and social issues within our community to the Township Council
Propose solutions to the Township Council that ensure accessibility for all community members for our services and programs
Assist the Administration and the Dept. of Community Services with the organization, coordination, research, and manage actions in the Community as it relates to multicultural inclusion and accessibility of the Township's policies, programs, and services.
---
How to Volunteer:
Please fill out this Google Form to learn about our various events/activities and how to volunteer for individual events throughout the year
---
Download the presentation below to learn more about the formation and goals of the MIAAC: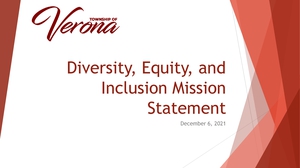 Residents are encouraged participate in our community by volunteering for various boards, committees and commissions. If you are interested in knowing more about how you can serve Verona or would like to submit a letter of intent and resume for consideration by the Town Council for any of the boards, committees and commissions listed on the website, please call (973) 857-4770.
---
2023 MIAAC Members:
Carla Buglione - Term Ends 12/31/2024
Kathleen Francis - Term Ends 12/31/2024
Michele Gruet - Term Ends 12/31/2026
Wesley Tahsir-Rodriguez - Term Ends 12/31/2025
John Vajda - Term Ends 12/31/2025
Kristin Dunleavy - Term Ends 06/30/2026
Michelle O'Neill - Term Ends 06/30/2024
Rita Chevalier - Term Ends 06/30/2025
Roxanna Tirado - Term Ends 06/30/2026
Christine McGrath - Council Representative
Claudine Pascale - Director of the Verona Public Library
Diane DiGiuseppe - Superintendent of Schools
---
2023 Meeting Information:
The MIAAC meets the 4th Wednesday of the month at 7:00pm in the Verona Community Center Conference Room, 880 Bloomfield Ave. unless otherwise noted.
*Currently the MIAAC will meet via Zoom only. Information is posted on the agenda below*
2023/2024 Meeting Dates:
September 27, 2023
October 25, 2023
November 29, 2023
December 20, 2023
January 24, 2024
February 28, 2024
March 27, 2024
April 24, 2024
May 22, 2024
June 26, 2024
2023 Agendas:
2022 Agendas:
Minutes: