Tax and Utility Billing and Collection
Tax Collector  
Jennifer Muscara, CFO/CTC
Location:  600 Bloomfield Ave, Verona, NJ 07044
Hours:  8:30 AM – 4:30 PM Monday-Friday
Contact: 
Tax  (973) 857-4777
Water/Sewer  (973) 857-4798
---
Have a Question or Comment? 
---
*A lock box is available 24/7 in the vestibule of the Police Department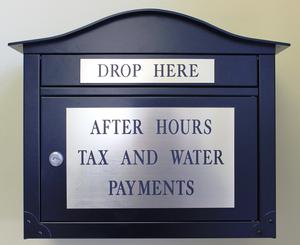 We are happy to announce that automatic direct debit is now available for the payment of Property Taxes and Water/Sewer payments. 
The Tax Collector's office processes the billing and collection of all property taxes and Township water/sewer charges.

The Tax Collector's office acts as the collecting agency for numerous governmental bodies, including the Verona Board of Education and the County of Essex.
---
Property Taxes  
Download this guide to help understand your taxes better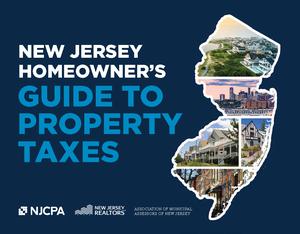 Tax bills are mailed twice a year. In June for 3rd quarter and September for 4th, 1st & 2nd quarters
Failure to receive a tax bill does not exempt you from paying taxes or the interest due on delinquent taxes
Taxes are due quarterly: August 1, November 1, February 1, May 1
There is a 10-day grace period. If the 10th day falls on a weekend/holiday, the grace period extends to the next business day.
Please be advised that payments must be received in the Tax Office on or before the last day of the grace period – postmarks are not permitted.
---
Interest Rate  
The Township of Verona has adopted by resolution an interest rate of 8% for the first $1,500 of delinquency, and 18% for any delinquency over $1,500 as allowed per state statute N.J.S.A 54:4-67, as well as a 6% year-end penalty on any balance owing as of December 31  st  in excess of $10,000.00.
---
Tax Sale  
Any unpaid delinquent taxes due from the prior year which are still owing may be subject to "TAX SALE".  Tax Sale is the enforcement of collections against a property by placing a lien against the property for all outstanding municipal charges due at the end of the Calendar year (December 31).  Municipal charges include but are not limited to: Property Taxes, Special Improvement District Taxes (S.I.D), Added/Omitted Assessments, Property Maintenance liens.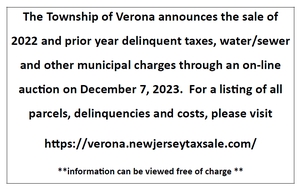 ---
State of New Jersey Property Tax Relief Programs  : 
There are three separate and distinct property tax relief programs available to New Jersey homeowners from the State.
All Property Tax Relief Programs: https://www.state.nj.us/treasury/taxation/relief.shtml
---
Annual Property Tax Deduction for Veterans:
Annual deduction of up to $250 from taxes due on the real or personal property of qualified war veterans and their unmarried surviving spouses/surviving civil union partners/surviving domestic partners. ***
---
Annual Property Tax Deduction for Senior Citizens, Disabled Persons:  
Annual deduction of up to $250 from property taxes for homeowners age 65 or older or disabled who meet certain income and residency requirements. ***
***These (2) benefits are administered by the local municipality.  Eligibility Requirements, applications, and assistance with these deductions are available at the Finance Office.
---
Utility Relief Updates
---
Links  
---
Forms