Municipal Court
Municipal Court Judge
John A. Paparazzo
Court Administrator
Erika Varela
Prosecutor
Brian Mason
Public Defender
William Fried, Jr.
---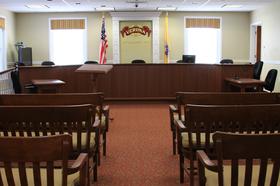 Location: 600 Bloomfield Ave, Verona, NJ 07044
Hours: 8:30 AM – 3:30 PM Monday-Friday
Contact:
Phone: (973) 857-4772
Fax: (973) 857-4792
---
Court sessions :
1 st Wednesday 4:30pm
2 nd Wednesday 9:00am
3 rd Wednesday 9:00am
---
---
*COVID-19 - No In Person Municipal Court Sessions Effective April 27th 2020
In effort to contain the spread of COVID-19 Coronavirus the Administrative Office of the Courts has suspended all In Person Municipal Court matters. All Municipal Court proceedings will be conducted remotely by video or phone. Please contact the Municipal Court office immediately to provide the court with your phone number and email address.
---
General Information:
*Please Note: As of August 1, 2022 the Court will no longer be accepting cash payments. Accepted methods of payment include Credit Card, Check and Money Order.