Verona Launches Medicine Drop-box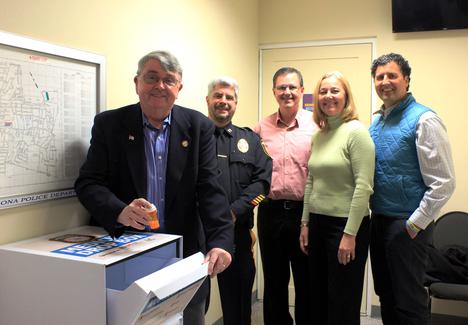 Mayor Kevin Ryan of Verona was one of the first to use the new prescription drop box at the Verona police station as members of the Verona Municipal Alliance Committee, Verona Police, and Township Council look on. (Pictured (L-R): Mayor Ryan, Captain Stephen DePoe of the Verona Police Department, Colin Boyle and Ann Jocelyn of VMAC and Deputy Mayor Michael Nochimson. Not pictured: Joel Torres of ADAPT.)
Verona, NJ November 27, 2017 With the installation of a prescription drop box at the Police Station, Verona is now one of the many communities in Essex County to provide citizens with a safe and easy way to dispose of expired or unused medicines. The box was provided to the Township by ADAPT (Alcohol & Drug Abuse Prevention Team) of Essex County through a grant from the New Jersey Division of Mental Health and Addiction Services. Working with members of the Verona Municipal Alliance Committee (VMAC) and the Verona Police Department, ADAPT installed the box earlier this fall and it was officially announced as part of the Council's resolution declaring November as SAFE Homes Month. SAFE Homes is a VMAC program sponsored by the Governor's Council on Drug & Alcohol Abuse and it that encourages families to protect our youth by pledging several safety initiatives that include properly disposing of unused prescriptions.
"The addition of a drop box in Verona shows the commitment by the Council, Police, and VMAC to help combat the drug epidemic that is impacting all of our Essex County communities," said Joel Torres of ADAPT when installation was complete. Captain Depoe added that the Police were eager to work with ADAPT on this project as "another way to serve and support our community by getting potentially dangerous medications out of a family's medicine chest." "Not only does the drop box get unused and expired medications out of the homes where there is a potential for misuse, it protects our environment by keeping those substances out of our landfills and water supplies."
The drop box is available 7 days a week, 24 hours a day and is located just inside the police station at 600 Bloomfield Avenue. In order to dispose of medication properly, prescription and over-the-counter medications can be left in the original container with the type of medication still visible on the container. All personal or identifying information should be removed. Then simply drop it in the box. "Our hope is that by making it easy to dispose of medication, we will be able to help make it difficult for medications to be purposely or accidentally misused. This is a great addition to our community," declared Colin Boyle, Chair of VMAC.