Verona Restaurant Week 2019!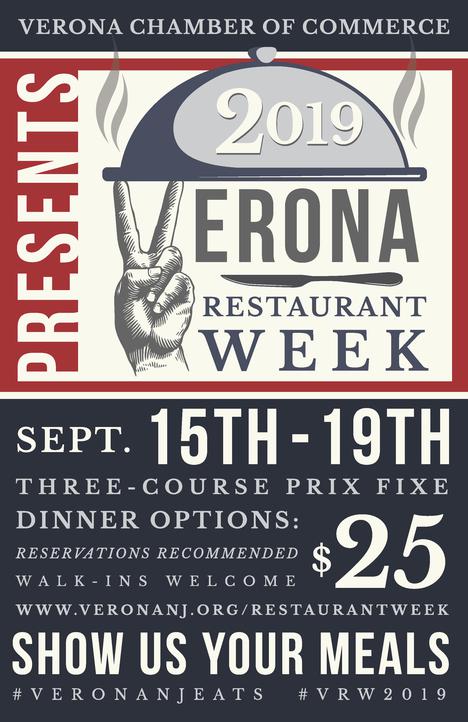 ---
2019 Participating Restaurants Below:
*Reservations Recommended but walk-ins welcome*

973-744-0533 for Reservations
706 Bloomfield Ave.
Seasonal. Savory. Delicious. Comfort Food.
Chef Ariane Duarte's love for cooking began as she was growing up, watching her grandmother cook the family dinners. She applied and was accepted to the Culinary Institute of America in Hyde Park, New York. Upon her graduation, she was hired as a sous chef at the Highlawn Pavilion in West Orange. Read more...
---

973-559-3033 for Reservations
605 Bloomfield Ave.
Bringing the Taste of Thailand to you
It started with a dream shared by a husband and wife. In 2006, Pupay came to the US to get a new start in life and met Jon shortly after. Two years later they were married. Soon she realized how much she missed her native Thai food and so she started shopping around northern Jersey to look for the products so she could make her own "home" food. Read More...
---

973-239-7444 for Reservations
558 Bloomfield Ave.
Chic fine-dining spot with a varied menu, modern decor, patio seating & a relaxed vibe
Chopped Champion Michael DiIonno offers New American Cuisine at Avenue Bistro. We invite you to experience our signature dishes like firecracker calamari, tuna tacos, braised short ribs and lobster Mac and cheese. Read More...
---

973-433-7256 for Reservations
648 Bloomfield Ave.
Contemporary new restaurant offering dishes fusing classic French, Korean, and American cooking ingredients and techniques
Chef Woo and Chef Joann met while studying together at the French Culinary Institute in New York and bonded over their similar backgrounds. And in the Spring of 2019, they finally decided to bring to life years of conversations, ideas, hopes, and dreams by opening BLOOM. Read More...
---

973-239-7812 for Reservations
20 Grove Ave.
Delicious Gourmet Empanadas.
Gotta blame the 2009 recession for Empanada Lady's success. As the corporate world decided to let me go after a long, fifteen year relationship, this little lady sent herself to culinary school to start a new career path, not knowing where it would lead to. Read More...
---

973-239-1303 for Reservations
667 Bloomfield Ave.
Offering fresh traditional and eclectic Italian-American cuisine
From fresh seafood and homemade pastas to hand-cut steaks and chops, we use the finest ingredients combined with both classic and modern cooking techniques to ensure the finest quality in each and every dish. Read More...
---

973-239-3900 for Reservations
636 Bloomfield Ave.
Offering the best coal brick-oven pizza
Grimaldi, whose restaurant bears his named, learned the trade from his uncle and namesake, Patsy Lancieri, who, in turn, learned from Gennaro Lombardi, the man credited with opening the first pizzeria in America in 1905. Read More...
---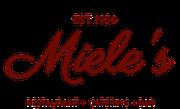 973-239-3363 for Reservations
125 Bloomfield Ave.
Refined, family-owned bar/eatery since 1954 offering classic Italian entrees in an intimate setting.
When Rose and Tom Miele opened their restaurant in 1954, they believed that buying the best ingredients was the key to success. The rest would take care of itself. My mother, Joanne, took that advice to heart. Read More...
---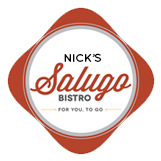 973-857-2584 for Reservations
510 Bloomfield Ave.
Part pizzeria, part fine dining, Salugo is a casual neighborhood bistro which prides itself on quality restaurant fare.
Salugo prides itself on quality restaurant fare. That's apparent as soon as you walk through the door, greeted by baskets of fresh produce and a pile of wood at the ready to fire up the pizza oven to craft smart & irresistible food everyone will enjoy. This is a chance to dine in the Italian countryside without leaving town. Read More...
---

973-239-0544 For Reservations
624 Bloomfield Ave.
Long-running, neighborhood tavern with pub grub, an extensive craft beer list & TVs showing sports.
Verona's iconic Verona Inn offers quality, casual dining, 38 rotating beers on tap, large bar, and outdoor patio. Voted "Best Sports Bar." Read More...
---
Participating Locations with Restaurant Week Specials:
These locations will be holding various VRW specials from 9/16-9/20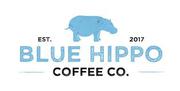 662 Bloomfield Ave.
Eat Well. Drink Good Coffee.
Blue Hippo Coffee Company spreads love and coffee to Verona. We provide high quality fair trade coffee, alongside a menu created from fresh, healthy, seasonal, locally sourced ingredients. Read more...
VRW Special Event: "Sweet Ending to Verona Restaurant Week." One Night Only! Come and enjoy dessert specials, live music, and great company! Thursday, September 19!
---