Storm Recovery Programs Available for Those Impacted by Hurricane Ida.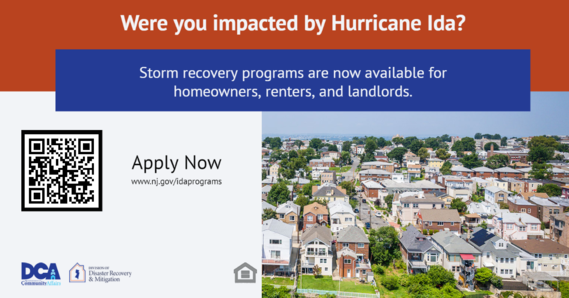 ---
The New Jersey Department of Community Affairs (DCA) is using more than $228 million in Community Development Block Grant-Disaster Recovery (CDBG-DR) funding from the U.S. Department of Housing and Urban Development to fund the recovery programs. The following programs are now accepting applications.
Homeowner Assistance Recovery Program (HARP): This program provides grants to owner-occupied properties to repair, rebuild, and/or elevate their storm- damaged home.
Tenant-Based Rental Assistance (TBRA): This program provides supplemental rental assistance for households impacted by Hurricane Ida.
Housing Counseling and Legal Services: Provides supportive services, such as foreclosure prevention, relocation services, and debt management, and assists with application intake for CDBG-DR-funded programs to help impacted residents transition to more permanent housing.
Additional programs are being developed and will launch later this year. For more information about how to apply to the storm recovery programs, visit www.nj.gov/idaprograms.