Women's Clinic/ Cancer Screening
The Montclair Health Department in collaboration with Rutgers New Jersey Medical School- S.A.V.E Program, funded by the New Jersey Cancer Education and Early Detection (NJCEED) is offering a Women's Clinic/ Cancer Screening Event on Thursday September 26, 2019 at the Montclair Municipal Building, 205 Claremont Avenue, 3rd floor from 9am – 3pm.
The following will be offered:
Pelvic Examination & PAP Smear Testing for early detection of cervical cancer ( age 21 and older)
Clinical Breast Examination ( age 21-45 )
Mammogram Referral ( age 45 and over if eligible)
Colorectal Test kit ( if eligible)
Cancer Education
The Program eligibility criteria includes:
Age 21 or over
Essex County resident
No health insurance
Limited Income ( 2018 Federal Poverty guidelines)
There is no cost to eligible women for these services.
To schedule an appointment or if interested in more information, please call the Montclair Health Department at 973-509-4980.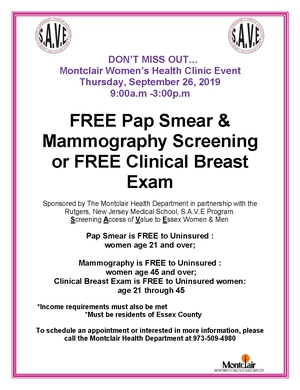 More:
Home News